I may not be able to grow vegetables, but I never have any trouble growing cymbidium orchids...a sure sign spring has arrived are these blooms...
In the eighties, gardeners I knew lamented how difficult it is to grow cymbidiums. A neighbour gave me a 'pseudobulb' back then, which I potted and grew and I haven't looked back since. That one bulb has resulted in countless numbers of plants which I have gifted (and more recently sold) over the years.
This year I acquired a yellow variety which is yet to flower.
Unfortunately on getting the plant home I noticed that it is infested with scale insects which I'm now wondering if I can treat, or if I should discard the plant right away.
The last time I acquired a scale infected plant I struggled with it for many years until I gave up in despair and put it in the bin.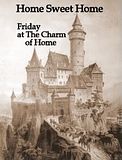 #138 @ Charm of The Home.